Smart devices
TECNO's Brand New SPARK 10 Series: The Ultimate High-Performance Selfie Phone for Gen Z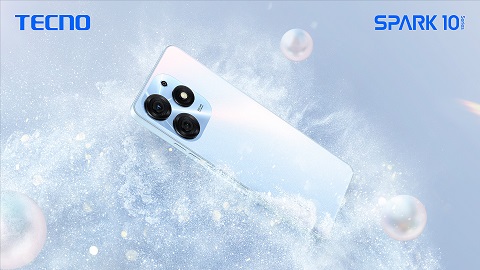 The MediaTek Helio G88-powered SPARK 10 Pro features a 32MP ultra-clear front camera with dual soft light, packing superior selfies, smooth gaming experience and trendy design seamlessly together.
Saudi Arabia, Riyadh – March 20,2023
TECNO, an innovative technology brand with operations in over 70 global markets, today launched the brand-new SPARK 10 series, marking a new era in selfie phones  in its segment by combining superior performance with sleek and trendy design.
This series features adjustable dual soft lights on the 32MP ultra-clear front camera available for the SPARK 10 Pro, allowing the young generation to showcase the best in them and glow as they are. Powered by MediaTek Helio G88 gaming processor, the SPARK 10 Pro comes with a massive 16GB(8GB+8GB extended RAM) and 256GB ROM, geared up to elevate the performance in all aspects. It also features a hard-wearing starry glass back panel, resulting in a premium look and a comfortable feel. All these new additions make the SPARK 10 series the ultimate high-performance selfie phone in its price bracket.
32MP Glowing Selfie, Capturing Your Best Self Regardless of Where You Are
Engineered for selfie fanatics, the SPARK 10 Pro has a 32MP Ultra-Clear Front Camera with 4-in-1 HW Remosaic technology. By synthesizing the small pixel size of 0.8um into a bigger pixel size of 1.6um, the sensitivity of the pixel's area is increased by 400%, which allows the camera to capture great details with even greater clarity.
In addition, the entire SPARK 10 series is equipped with dual soft lights on both the front and rear cameras.The built-in 10 Lux soft light provides just the right amount of flash that does not glare, and the intensity of the soft light is adjustable in three levels for different lighting conditions.To ensure users will always get the perfect selfie, any overexposure is immediately corrected by the Super Flashlight Algorithm to achieve a balance of brightness between the background and the subject, while concealing user's blemishes and accentuating their beauty. All of this makes the SPARK 10 Series the lighting pro in your pocket.
G88 Gaming Processor, Ultra Upgrading for Performance Freaks
For creators and gamers, the desire to push boundaries requires top-notch technology that surpasses expectations. SPARK 10 Pro optimized the performance with MediaTek Helio G88, which is an octa-core processor that features two Arm Cortex-A75 CPUs operating up to 2GHz, enabling quick responsive reactions. Equipped with MediaTek HyperEngine 2.0 and supercharged by the GameTurbo Algorithm from TECNO, the SPARK 10 Pro estimates lags and intelligently improves operational smoothness, providing an unmatched gaming and entertainment experience.
With the Memory Fusion technology, the RAM capacity of the whole SPARK 10 series is increased up to 16G, and the SPARK 10 Pro even boasts up to 256GB ROM and 16GB RAM(8GB extended RAM). Such huge memory ensures more apps run at a much faster rate, bringing the smoothest user experience in the history of SPARK.
50MP High-Resolution Photography System, Delivering More Detailed Shots
The SPARK 10 series offers an advanced 50MP AI camera supported by ASD mode and 3D LUT technology, bringing natural shots that are fully adapted to skin tones. Together with the Intelligent Beauty Mode, SPARK 10 Series delivers flawless and simply stunning portrait photos. Furthermore, with smart Super Night Filters and the Super Night Algorithm, as well as the dual flashlight, SPARK 10 Pro improves the performance of night photography, making every frame and picture clearer.
Vlogging is made even more fun with the SPARK 10 series. The Beauty Mode, AR stickers, HDR, and Bokeh effect as well as the unique cinematography mode, all apply to videos, which empowers users when filming their daily life in all kinds of scenarios. The SPARK 10 Pro and the SPARK 10 5G are also supported by smart focus, so users will never miss a wonderful moment, even if it comes unexpectedly.
Hard-Wearing Starry Glass Panel, Sleek and Youthful Design for Trendsetters
These standard setting innovations are housed within a striking, unprecedented design featuring a starry glass back panel that is glossy, smooth, comfortable to hold, and natural to the skin. Dual cameras and a smart flashlight form a flagship triple ring, while the edges of the phone are flat, showing a premium and minimalist look. Users will be proud to show off their devices that come in an array of colors: Starry Black and Pearl White for the SPARK 10 Pro, and Meta Black, Meta Blue, Meta White, and Meta Green for the other models.
Ultra-High Resolution Display, Elevating Your Visual Experience to New Heights
Additionally, the 6.8″ FHD optimally-sized large screen expands the user experience, and combined with the ultra-high resolution display and DCI-P3 color, these gamuts together build an immersive theatrical visual experience on the phone. Most of the models in the SPARK 10 series are supported by a 5000mAh battery and 18W fast-charging capability, promising a long-lasting battery life that keeps the device powered up even under heavy use. Last but not least, TECNO SPARK 10 Series(except for SPARK 10C) uplifts user experience in software with the impeccable Android 13 HiOS 12.6.
Availability
Starting from March 20, the SPARK 10 series are available in three versions: SPARK 10 Pro, SPARK 10 and SPARK 10 C for purchase in Saudi Arabia through all telecom markets around the Kingdom, Extra, Noon, Amazon, LuLu Hypermarket and Nesto, at a price of 649 SAR. Also, customer will get a free gift worth SAR 299 for a limited time. 
About TECNO
TECNO is an innovative technology brand with operations spanning over 70 countries and regions across five continents. Since its debut, TECNO has been transforming the digital experience in developing nations by tenaciously pursuing the ideal fusion of cutting-edge technologies and aesthetically pleasing contemporary design. TECNO has established itself as a prominent market leader in its target segments, offering cutting-edge innovation through a variety of smartphones, smart wearables, laptops, tablets, HiOS operating systems, and smart home devices. Guided by its brand essence of "Stop At Nothing", TECNO is committed to unlocking the optimal and most contemporary technologies for progressive thinking individuals.  By creating stylish, intelligent products, TECNO inspires consumers worldwide to never stop pursuing their best selves and their best futures. For more information, please visit TECNO's official site: www.tecno-mobile.com
For more information, please visit www.tecno-mobile.com  or follow us on:
Facebook: https://www.facebook.com/TECNOMobileSaudiArabia
Instagram: https://www.instagram.com/tecnomobileksa/
Twitter: https://twitter.com/TECNOMobileKSA
YouTube: https://www.youtube.com/@tecnomobileksa
For press enquiries, please contact:
Arwa Abbas
Marketing & PR Director – KSA
Email: arwa.abass@tecno-mobile.com