Smart devices
Why You Should Choose HUAWEI PaperMatte Tablets for Paper-like Reading and Writing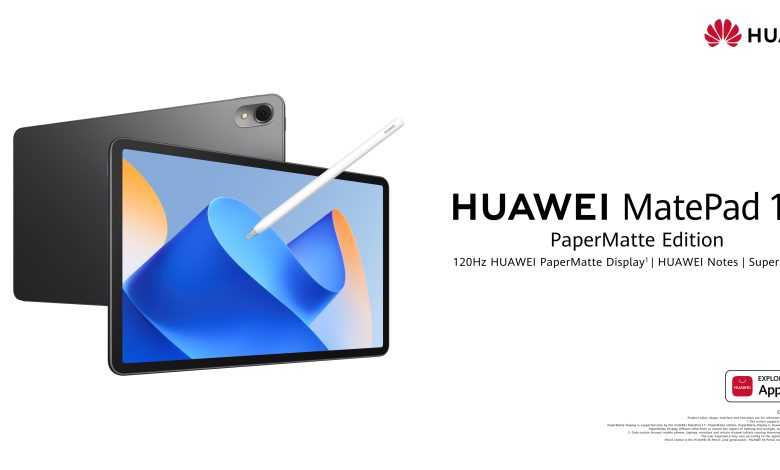 Alriyadh, 16 October 2023: Have you tried reading books or watching videos on tablet screens in bright outdoors or by a window? It's going to be hard to see what's on the screen with all the reflections and glare, and you will end up squinting at the screen and hurting your eyes. Reading from paper is comfortable even over extended periods because paper doesn't gleam with reflections under bright light, nor does it flicker. Moreover, writing or drawing on paper provides a certain resistance and tangible feedback that a smooth glass screen simply doesn't offer. What if you could have a screen that is just as comfortable as paper?
Huawei Tech Investment Saudi Arabia will launch soon the HUAWEI MatePad 11.5" PaperMatte Edition and HUAWEI MatePad 11" PaperMatte Edition tablets that tackle this problem head-on with the new PaperMatte Display that gives you a paper-like experience. These two tablets use the PaperMatte Display that reduces glare, flicker, and eye strain, offering a natural and comfortable viewing and writing without compromising display clarity.
The PaperMatte Display: A natural and comfortable screen
The PaperMatte Display uses nano-level anti-glare etching technology to create hundreds of millions of tiny textures on the glass surface. These textures scatter the light and prevent it from reflecting back to your eyes. This reduces light interference by 97%, eliminating glare from any angle. You can see clearly even in bright sunlight and enjoy a smooth and natural paper-like feel on your tablet.
The PaperMatte Tablets also deliver a vivid and vibrant display that doesn't compromise colour accuracy for comfort. They offer a colour e-book mode that makes your screen look like a real book, displaying thousands of colours with precision and richness. You can read e-books or comics with a realistic and immersive view, in a way that is easy on the eyes and lush with colours.
Whether watching a video, reading an e-book, or playing a game, the PaperMatte Display lets you do it all without missing any details.
Certified for eye comfort
Besides glare, another factor that can cause eye fatigue is screen flicker. It can happen when your screen adjusts to different lighting conditions or when you use it for a long time. Fortunately, the PaperMatte Display protects your eyes from flicker and blue light. It uses TÜV Rheinland-certified Flicker-Free and Low Blue Light (Hardware Solution) technologies to keep your screen smooth and natural, taking eye comfort to a whole another level.
The PaperMatte Display has TÜV Rheinland Reflection Free and industry-first SGS Low Visual Fatigue Premium Performance Certifications that guarantee excellent viewing performance in any situation. The SGS Low Visual Fatigue Premium Performance certification is the highest certification from SGS that measures eye strain. With a screen as comfortable as this, you can enjoy your content with peace of mind, knowing that your eye health is in good hands.
Write and sketch like on paper
The PaperMatte Display lets you write on your tablet as if writing on real paper. It has a subtle texture, created by nano-level anti-glare etching technology, that offers a tangible, paper-like resistance while writing and sketching. It also has realistic sound effects and vibrations that simulate the feel of using a pen and paper. The textured surfaces of the PaperMatte tablets give you the right amount of friction and grip for you to write faster and accurately without slipping.
You can use the PaperMatte Tablets with the HUAWEI M-Pencil (2nd generation), which has a nylon elastomer nib and a latency of just 2ms. It gives you a smooth and natural writing experience. You can even change the nib to a soft white one for a more gentle feel.
PaperMatte Edition tablets come with HUAWEI Notes, a powerful note-taking app that lets you do amazing things with your tablet. This app offers some cool features that make your note-taking more fun and efficient. You can zoom in on the canvas up to 15 times to effortlessly craft intricate mind maps and stunning sketches. You can also convert your handwriting to text with just a tap.
Conclusion
The HUAWEI MatePad 11.5" PaperMatte Edition and HUAWEI MatePad 11" PaperMatte Edition tablets are perfect for anyone who wants a tablet that can replace physical books and let them watch videos and browse the web without being distracted by glare and squinting their eyes. With these tablets, you can carry thousands of books anywhere you go and sketch your ideas and take notes comfortably, like on paper. Plus, unlike an e-book reader, these tablets can do everything a typical tablet can.
The HUAWEI MatePad 11.5" PaperMatte Edition is available now for Early Bird at a price 1499 SAR with valuable gifts, whereas the HUAWEI MatePad 11" PaperMatte Edition is also available now for Early Bird at a price of 1999 SAR with valuable gifts too.
###
About HUAWEI Consumer Business Group (CBG)
Huawei Consumer Business Group (CBG) is one of Huawei's three business groups, providing a range of products including smartphones, tablets, laptops, wearables, audio, monitors, smart screens, IOT and others.
Year on year growth was reflected in Huawei's rise as a globally recognized premium brand. In January 2022, Brand Finance revealed Global 500 2022 list of the world's most valuable brands, Huawei ranked No. 9, showing year-on-year growth of 28.6% in Huawei's brand value to US$71.2 billion.
In 2022, Huawei's R&D spend was US$23.8 billion, roughly 25.1% of the company's annual revenue bringing Huawei's total R&D expenditure over the past 10 years to more than US$144 billion.
For more information please visit: consumer.huawei.com/sa
For regular updates on HUAWEI Consumer BG, follow us on:
Facebook: facebook.com/HuaweiMobileKSA
Twitter: twitter.com/HuaweiMobileKSA
YouTube: youtube.com/Huaweimobileksa
Instagram: instagram.com/HuaweiMobileKSA